Who Are We
Valley Spring Recovery Center is a drug rehab center located in Norwood New Jersey, in Bergen County that provides cutting-edge addiction treatment to individuals addicted to drugs. We are licensed by the State of New Jersey to provide outpatient services and are proud to have the Golden Seal of Accreditation from JCAHO and CARF International. Valley Spring Recovery Center provides personalized care through our experienced medical and clinical staff and has specialized programs for working professionals as well as individuals who have a dual diagnosis as well as a family integration program. Our experienced medical and clinical team combines compassion, empowerment, accountability, collaboration, and innovation to guide individuals on their journey to lasting recovery. Our highly qualified team, integrated care programs, and collaborative approach set us apart, ensuring a comprehensive and coordinated treatment that addresses the root causes of addiction. We are dedicated to helping our patients build fulfilling and meaningful lives free from the chains of substance use and mental health challenges. We provide treatment in person at our facility as well as remotely through our telehealth addiction treatment platform.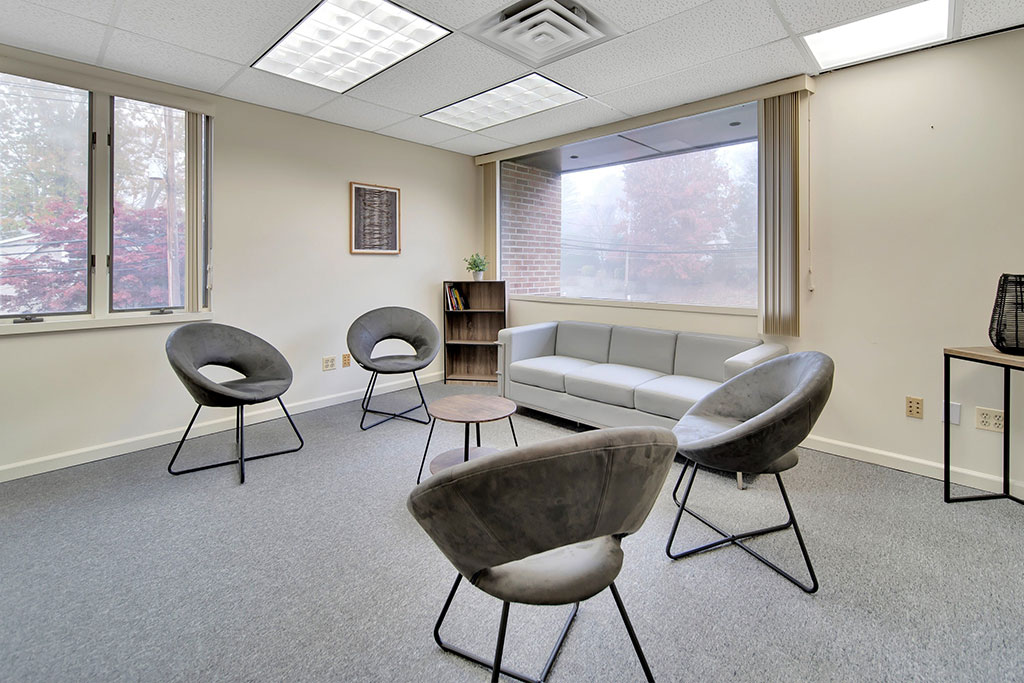 Addiction Treatment Programs
Our addiction treatment programs cover the outpatient continuum of care ranging from treatment that lasts the entire day to less intensive forms of treatment on an outpatient basis coupled with all of the important clinical services and life skills.
Specialty Programs
We have specialty programs for individuals who require different types of treatment, focusing more on their mental health or accommodating professional responsibilities.
Therapeutic Interventions
Our Approach To Recovery From Chemical Dependence
Personalized Care: At Valley Spring Recovery Center, we believe in the power of personalized care. Our experienced professionals work closely with each individual, tailoring treatment plans to meet their specific needs, preferences, and goals. We understand that everyone's journey to recovery is unique, and we are committed to providing the support and tools needed for success.
Innovative Treatment Approaches: We are at the forefront of innovation in substance use and mental health treatment. Through ongoing research, collaboration with experts, and the use of cutting-edge technology, we offer the most effective and evidence-based treatment modalities. Our commitment to innovation ensures that our patients receive the latest and most advanced care available.
Comprehensive and Integrated Care: Valley Spring Recovery Center takes a holistic approach to care, addressing not only substance use but also mental health and overall well-being. Our integrated care programs combine outpatient treatment, mental health counseling, dual diagnosis support, and wellness initiatives to provide a comprehensive recovery experience. We understand the interconnected nature of substance use and mental health, and our integrated approach promotes long-term recovery.
Collaboration and Community Support: We believe in the power of collaboration and community support. We work closely with other mental health and substance use treatment providers, healthcare professionals, and community resources to ensure coordinated care and support for our patients. By fostering strong partnerships and leveraging community resources, we create a network of support that enhances the recovery journey.
Empowering Individuals for Lasting Recovery: Valley Spring Recovery Center is dedicated to empowering individuals to take control of their own recovery. We provide the tools, resources, and support necessary to build a fulfilling and meaningful life beyond treatment. Our emphasis on long-term recovery and relapse prevention equips our patients with the skills and strategies to maintain their sobriety and mental wellness.
TRUSTED & ACCREDITED
Valley Spring Recovery Center Is Proud To Be Accredited By Both Major Licensing Bodies In Behavioral Healthcare, JCAHO And CARF.
What Makes Us Different
Valley Spring Recovery Center is a boutique addiction and mental health treatment center located in Bergen County North Jersey. We do real work here and our patients experience real recovery. We offer a variety of outpatient treatment services for substance use and co-occurring mental health disorders. We're committed to providing you with individualized care because we believe that person-centered treatment should focus on healing the complete individual.
Valley Spring Recovery Center is committed to addressing issues head-on. Our goal is not for everyone to leave each therapy session happy, it's our goal to do real work that results in real recovery. Healing and addressing the underlying issues that cause addiction are not commonly solved by co-signing negative behavior patterns.
Our Team
At Valley Spring Recovery Center, our medical and clinical team is comprised of seasoned professionals with a wealth of expertise in addiction treatment. Our commitment to addiction medicine includes a Medical Director who is a seasoned psychiatrist specializing in addiction medicine, our multidisciplinary as well as psychologists, registered nurses, and certified addiction counselors as well as peer recovery specialists who are unequivocally committed to delivering best-in-class care. We understand that addiction is a complex disease requiring a multifaceted approach. Our team collaborates to tailor personalized treatment plans that address not only the physical symptoms but also the psychological, emotional, and social aspects of addiction. By employing evidence-based therapies and state-of-the-art medical protocols, we aim to offer a holistic treatment experience. Our unwavering commitment to excellence ensures that we meet the highest standards in addiction care, providing effective and compassionate treatment that is responsive to the individual needs of each patient. If you are interested in a career at Valley Spring, visit our employment page.
Testimonials
"I am eternally grateful for all the staff here, especially John, who not only helped my husband become the man I fell in love with again…but also for his constant contact with me. If it weren't for his phone calls updating me on his progress and easing my anxiety, I don't know what I would have done. Thank you so much."
-Melanie
"My experience at Valley Spring Recovery Center was amazing! They helped me get my life back on track and helped me with any issues I had. I'm very grateful for Dr. Olla and the one on one therapy sessions with Laura. The staff are amazing and will help you with anything you are struggling with. If anyone is looking for a place to get sober this is the place and everyone will treat you like family!!"
-Josh
About The Content On Our Website
We are committed to providing educational information for people who want to know about addiction to drugs, and treatment methods and go to a rehab center. We employ an editorial standard for all of the content that is published on our website.