Expensive Luxury drug rehabs are a specialized category of treatment centers that offer a level of care and comfort beyond the ordinary. Luxury rehabs provide treatment for the types of addicts who are addicted to drugs but want a more private, serene, and exclusive environment. Individuals who seek luxury rehab might want a higher-end treatment center because they are wealthy or because they are a professional and want to be in a discreet environment that is more personal. Similar to hotels, one can stay in a motel for $50 a night or at The Palms Casino Resort, Las Vegas for $100,000 a night: both hotels have a bed where you can sleep and get rest, but The Palms has more amenities. Rehab centers work in the same way, you will receive treatment for addiction at any rehab center, but Luxury rehabs offer more amenities and comprehensive treatment services.
We'll break down the 20 most expensive and luxurious drug rehabs and explore what makes them stand out, the amenities they provide, and why some individuals may choose these options to help them on the path to recovery. Is this a path you or your loved one might take? Let's find out.
Prive Swiss (CA & Connecticut): 97,000 per 30 days
The Dunes East Hampton (N.Y.). $75,000 per 30 days
Passages Malibu (Malibu, CA). $64,500 per 30 days
Promises Malibu (Malibu, CA). $55,000 per month
Reflections Recovery Center (Novato, Calif.). $55,000 per month
Serenity Malibu (Malibu, CA). Ranges $47,000 to $56,000 for 30-day program (depending on shared versus private room)
AToN Center (San Diego). $45,000 per month
Caron Pennsylvania (PA) $32,875 for 28 days, and an 84-day extended care option for $52,560.
The Meadows (Wickenburg, Ariz.) $54,300 45-day program
Betty Ford Center (Rancho Mirage, Calif.). Ranges $33,00 to $67,750 per month (depending on patient needs)
Cottonwood Tucson (Ariz.). $65,000 90-day program and $39,000 30-day program
Lucida Treatment Center (Lantana, Fla.). $33,000 or $38,000 for 30 or 90 days (depending on program)
Valley Spring Recovery Center (Norwood, NJ). price starts at $30,000 per month
Avatar Detox (Ringwood, NJ). price starts at $15,000 per week.
Summit Malibu(Malibu, CA). price starts at $48,000 per month.
Seasons Malibu(Malibu, CA). price starts at $50,000 per month.
Caron Pennsylvania: price Starts at $32,875 for 28 days, and an 84-day extended care option for $52,560.
The Ridge Ohio (Cincinnati, OH) Price Starts at $45,000 per 30 days.
All Points North (Vale, CO) Price Starts at $50,000 per 30 days.
The Grove Estate (Peru, IA) Price Starts at $40,000 per 30 days.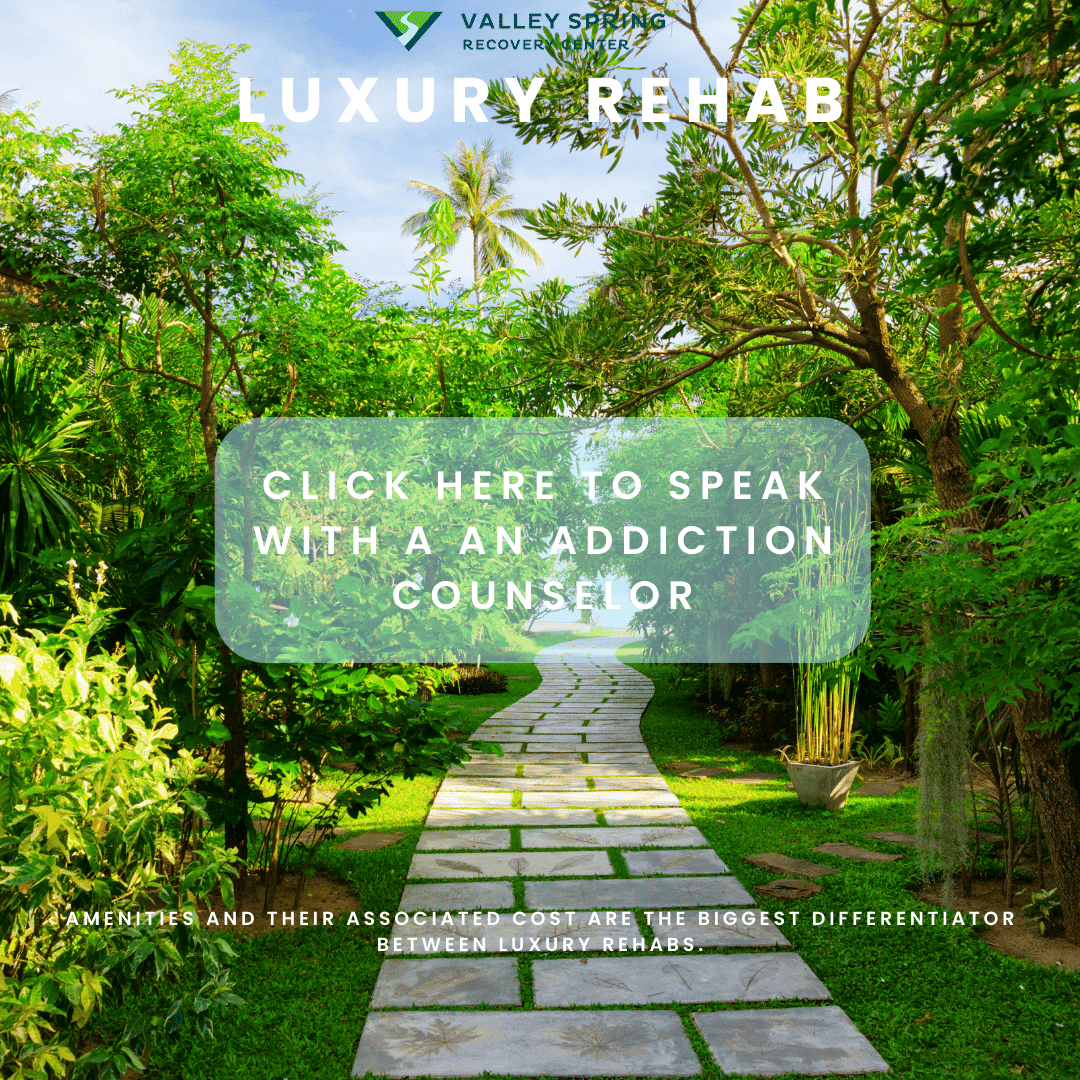 What is Luxury Drug Rehab?
Luxury Drug and Alcohol rehabs are high-end programs that help individuals stop consuming harmful substances and resume healthy, productive lives an elevated, comprehensive treatment experience designed to address the physical, psychological, and emotional aspects of substance dependence.
Beyond the core components of detoxification, counseling, and therapy, luxury rehab extends into the realm of holistic well-being by offering a plethora of high-end amenities. These may include private suites, gourmet dining, spa treatments, and personalized fitness regimens. The objective is not merely to treat addiction but to transform the recovery journey into a revitalizing experience for the body, mind, and spirit. Such facilities often employ a multidisciplinary team of experts, ranging from medical doctors to nutritionists and mental health professionals, all aimed at providing an individualized, multi-faceted approach to recovery.
Luxury rehab aims to equip individuals with the skills, confidence, and mental fortitude to lead a fulfilling, substance-free life, all within the confines of a sumptuous, serene environment.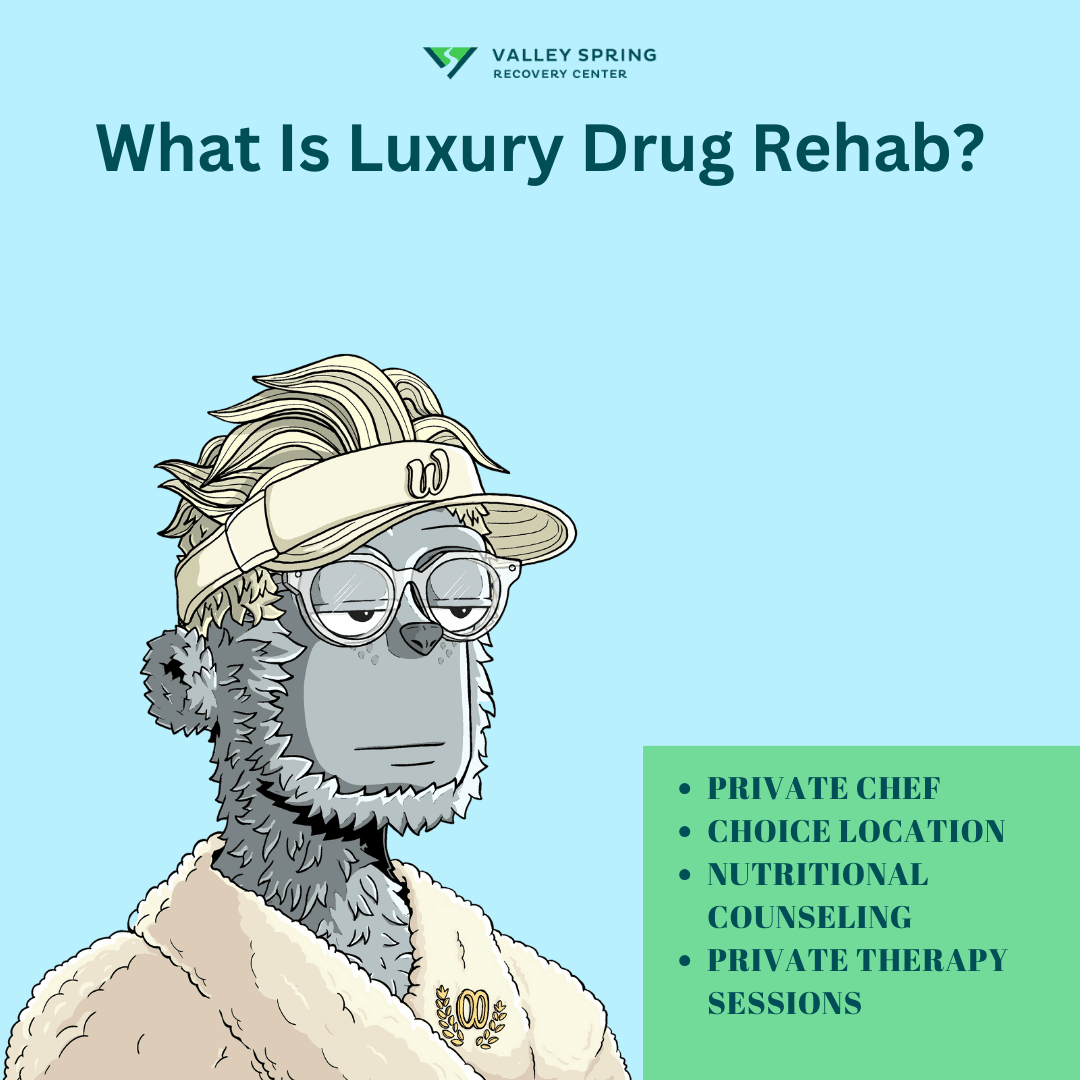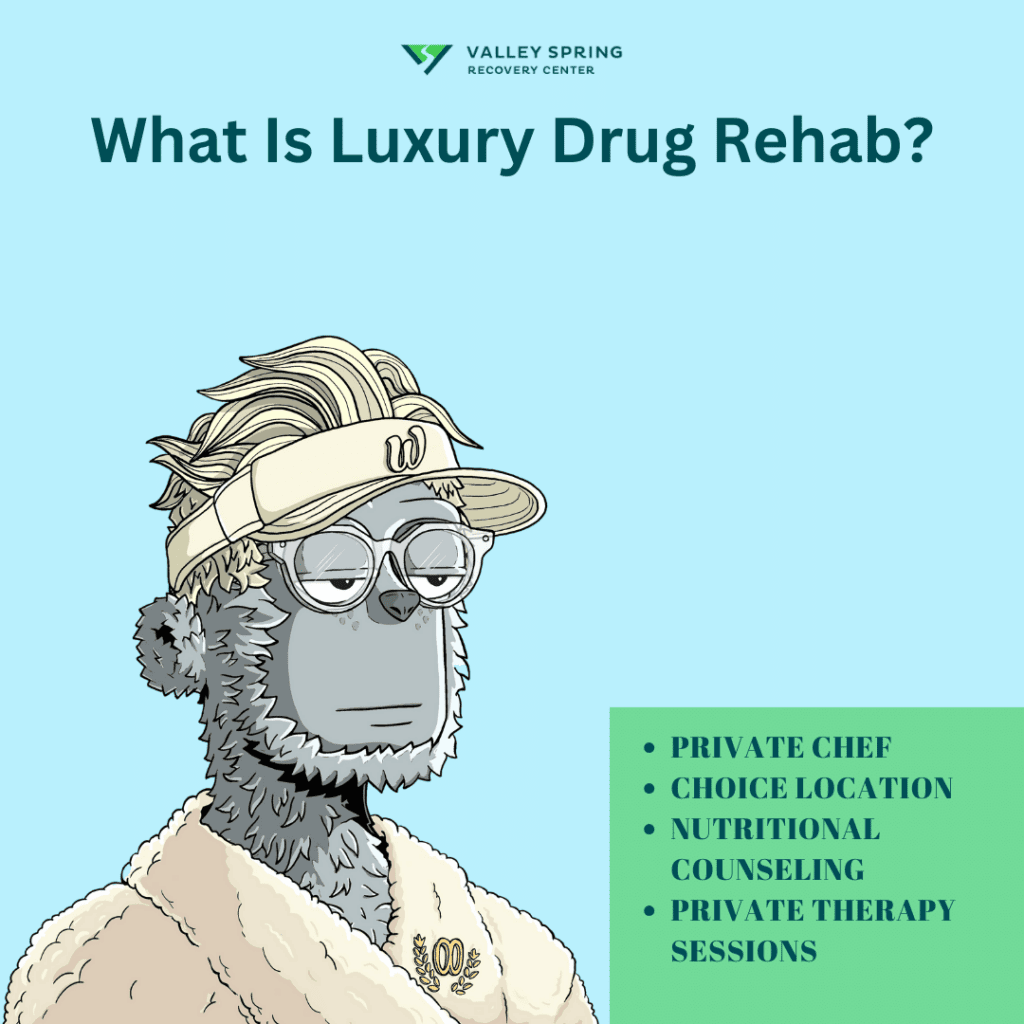 What are the Most Expensive Drug Rehabs?
Now, let's delve into the realm of luxury drug rehabs, where comfort and exclusivity often come at a premium. While these facilities offer different levels of amenities and services, it's important to explore what sets them apart and whether they might be a suitable option for your recovery journey. Understanding the features and costs associated with luxury drug rehabs can help you make an informed decision as you navigate your path to sobriety.
1. Prive Swiss: Your Private Path to Recovery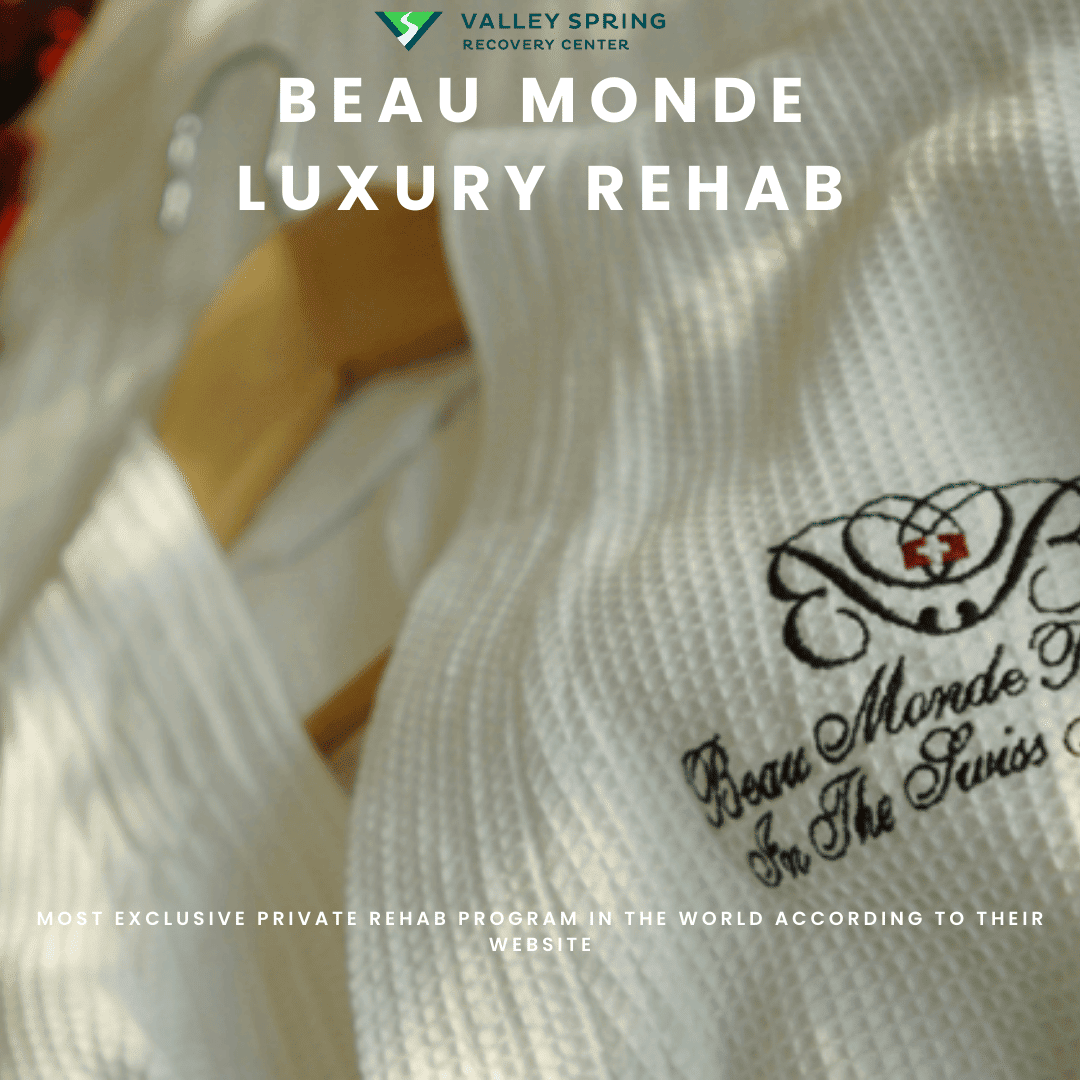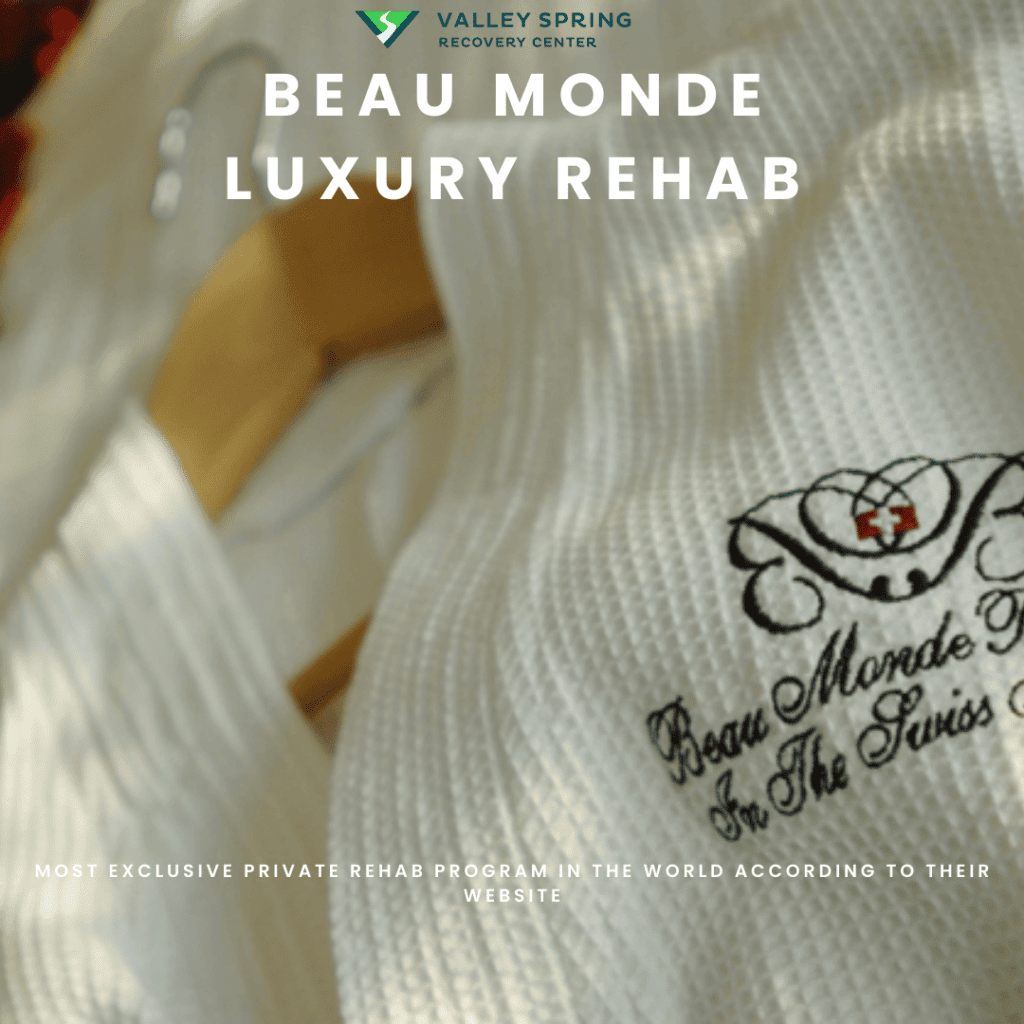 With exclusive locations in southern California and Connecticut, Prive Swiss offers unparalleled luxury. Limited to just three clients at a time, you'll receive unmatched one-on-one attention amidst gourmet meals and elegant living quarters. Receive personalized services, including extensive therapy and counseling, for $20,000 per week.
The Prive Swiss location was called Beau Monde Retreat and offered an exclusive rehab oasis sprawls across Newport Beach, Hollywood Hills, and Laguna Beach. Beau Monde Retreat actually closed in 2008 and re-opened under the new name Prive-Swiss brand name. For $96,000 a month, Prive Swiss offers gourmet meals, soothing massages, and extravagant shopping.
2. The Dunes East Hampton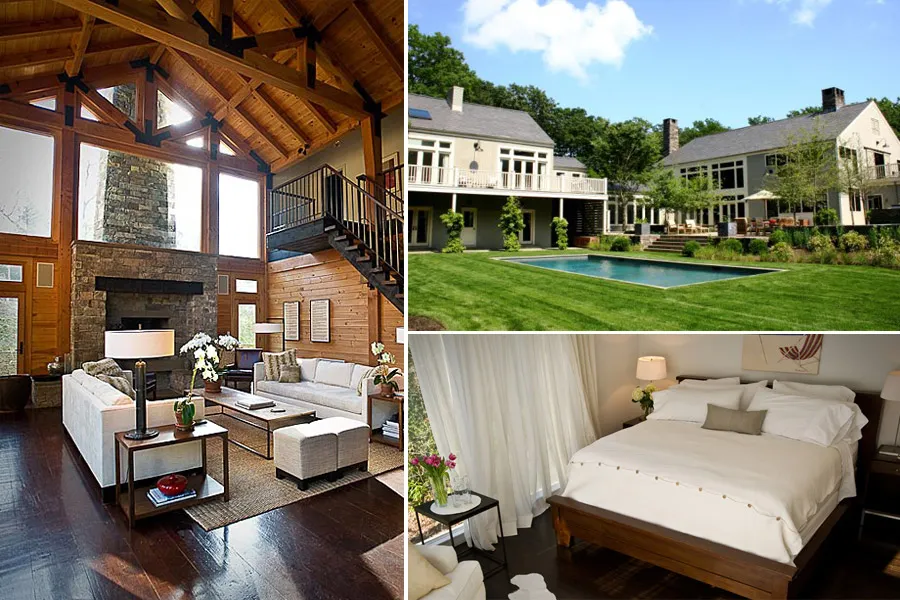 Costs $75,000 per 30 days. Provides holistic addiction care including yoga, meditation, and fine cuisine. The price seems to reflect the holistic and luxurious approach to treatment. In a 2015 exclusive with Vanity Fair, The Dunes was described as follows below:
Off a back road, down a dirt path, behind a wooden gate, and into an open kitchen, a chef dices peppers on stone counter tops to join the already browning organic chicken breasts in a cast-iron pan. Just outside the floor-to-double-ceiling-height windows, people lounge under an umbrella, overlooking the gunite pool. Just to the left, someone's curled up reading a book in front of the outdoor living room's fireplace. A tennis pro walks up the driveway for a lesson.

A scene From The Dunes Rehab In East Hampton According To Vanity Fair Magazine
3. Passages Malibu
Costs $64,500 per 30 days. Offers individual therapy sessions, a private chef, a library, and more. The price is consistent with the luxurious amenities and individualized care. Passages Malibu offers an alternative to traditional 12-step programs. With personalized therapy methods, adventure activities, and a stunning Pacific Ocean view, it's where Mel Gibson, David Hasselhoff, and Natasha Lyonne sought treatment for $64,500.
4. Promises Malibu
Costs $55,000 per month. Known for its celebrity clientele, it offers gourmet meals, a gym, and rock climbing. The price matches the high-end amenities and individualized care plans. Promises Malibu, frequented by celebrities like Britney Spears and Robert Downey, Jr., offers individualized care plans, unique therapies, and top-notch addiction knowledge.
5. Reflections Recovery Center Utah

Costs $55,000 per month. Offers private rooms, an executive chef, and various holistic therapies. The price aligns with the executive-level amenities. A residential treatment center that provides holistic addiction treatment with inspiring mountain views that contribute to healing.
6. Serenity Malibu
Ranges from $47,000 to $56,000 for a 30-day program. Offers holistic, non-12-step addiction treatment by the Pacific Ocean. The price aligns with the range of therapies offered. Serenity Malibu offers holistic, non-12-step addiction treatment by the Pacific Ocean. Enjoy a range of therapies, including cooking therapy.
7. AToN Center
Costs $45,000 per month. Offers diverse treatment approaches and picturesque views. Patients can enjoy a range of amenities for the price. AToN Center is touted as San Diego's Premier Luxury Rehab for Substance Abuse Treatment. Nestled in the scenic locale of Encinitas, California, AToN Center stands as a beacon of excellence in the San Diego region, boasting a 5-star rating for its unparalleled alcohol and drug rehabilitation services. But AToN Center offers more than just a break from addiction; it provides a transformative journey towards a drug-free life, guided by a team of highly skilled psychologists and addiction recovery experts. As a fully licensed, certified, and accredited Residential Treatment Facility, AToN Center offers both residential and detox programs, all within the confines of a luxurious sanctuary designed for holistic healing. Aton Center has a 4.6-star rating with 52 reviews on google.
8. The Meadows
Costs $54,300 for a 45-day program. Located in a picturesque setting, it offers diverse programs for addictions and mental health conditions. The price is relatively high but includes a longer treatment period. It's where Tiger Woods found solace in 2010. The Meadows has locations outside of Dallas Texas, Wickenberg Arizona and Malibu.
9. Betty Ford Center:
Ranges from $33,000 to $67,750 per month. Known for hosting celebrities, it offers a comprehensive treatment program. The price varies significantly, likely based on individualized treatment plans. Known as one of the oldest and most reputable addiction treatment programs started by Betty Ford, the former first lady, the center is known for hosting celebrities like Stevie Nicks and Ozzy Osbourne.
10. Cottonwood Tucson
Costs $65,000 for a 90-day program and $39,000 for a 30-day program. Targets sports enthusiasts with weight rooms, swimming pools, and more. This facility allows you to indulge in your favorite sports while battling addiction. Think weight rooms, swimming pools, basketball, and volleyball – all in a serene desert setting.
11. Lucida Treatment Center
Costs $33,000 or $38,000 for 30 or 90 days. Offers tailored programs for chemical dependency and mood disorders. The price is on the lower end but offers specialized care.
12. Valley Spring Recovery Center
Valley Spring Recovery Center is located in upscale Norwood New Jersey right near Alpine, NJ which was ranked as the number 1 most affluent city in the United states by Forbes with a Median asking price of $4.55 million. Valley Spring Recovery is a New Jersey-based luxury addiction treatment center that provides treatment to the affluent residents of the area. They offer telehealth treatment so individuals can commute back and forth from Wall Street with their convenient location near the George Washington Bridge. Valley Spring Recovery Center has a 5-star rating on Google with 20 reviews. Valley Spring costs $30,000 for 30 days of treatment depending on the program.
13. Avatar Residential Alcohol and Drug Detox Center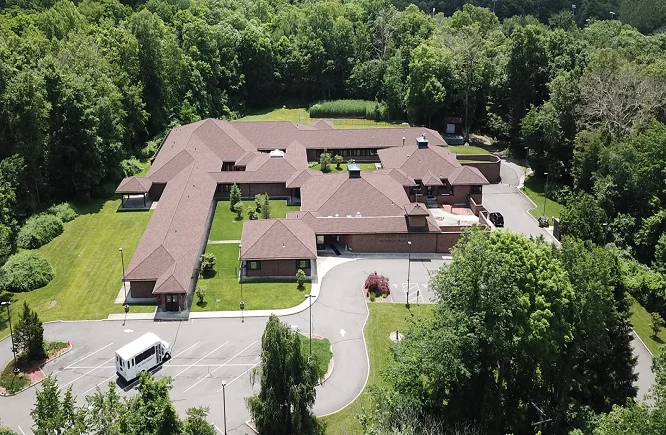 New Jersey's Elite Facility for Comprehensive Substance Abuse Treatment. Avatar stands as the pinnacle of addiction treatment in New Jersey, offering a trustworthy and holistic approach to drug detox, behavioral therapy, and mental health services. With a dedicated medical team, seasoned addiction therapists, and expert physicians available around the clock, Avatar ensures rapid and effective recovery. Specializing in a wide range of detox treatments—from Alcohol and Benzodiazepine to prescription drugs like Vicodin and Xanax—Avatar offers a tailored approach to combat substance abuse, all within a luxurious setting designed for your well-being. Avatar has over 200 reviews with a 5 star rating and costs $15,000 on a weekly basis.
14. Summit Malibu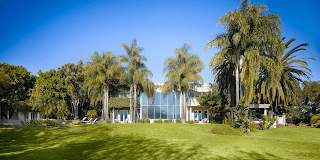 Price starts at $48,000 per month. Summit Malibu calls itself the longest-standing boutique rehab facility in Malibu, and it offers more than just a luxurious setting; it provides evidence-based dual diagnosis treatment for both substance abuse and co-occurring mental health conditions. With a holistic approach that aims to rejuvenate the mind, body, and soul, Summit Malibu delves deep into addressing the underlying causes of addiction. Upholding the highest standards of care, the center is both Joint Commission Accredited and licensed by the California Department of Health Care Services. They have 17 google reviews with an average rating of 4.2 stars on google.
15. Seasons Malibu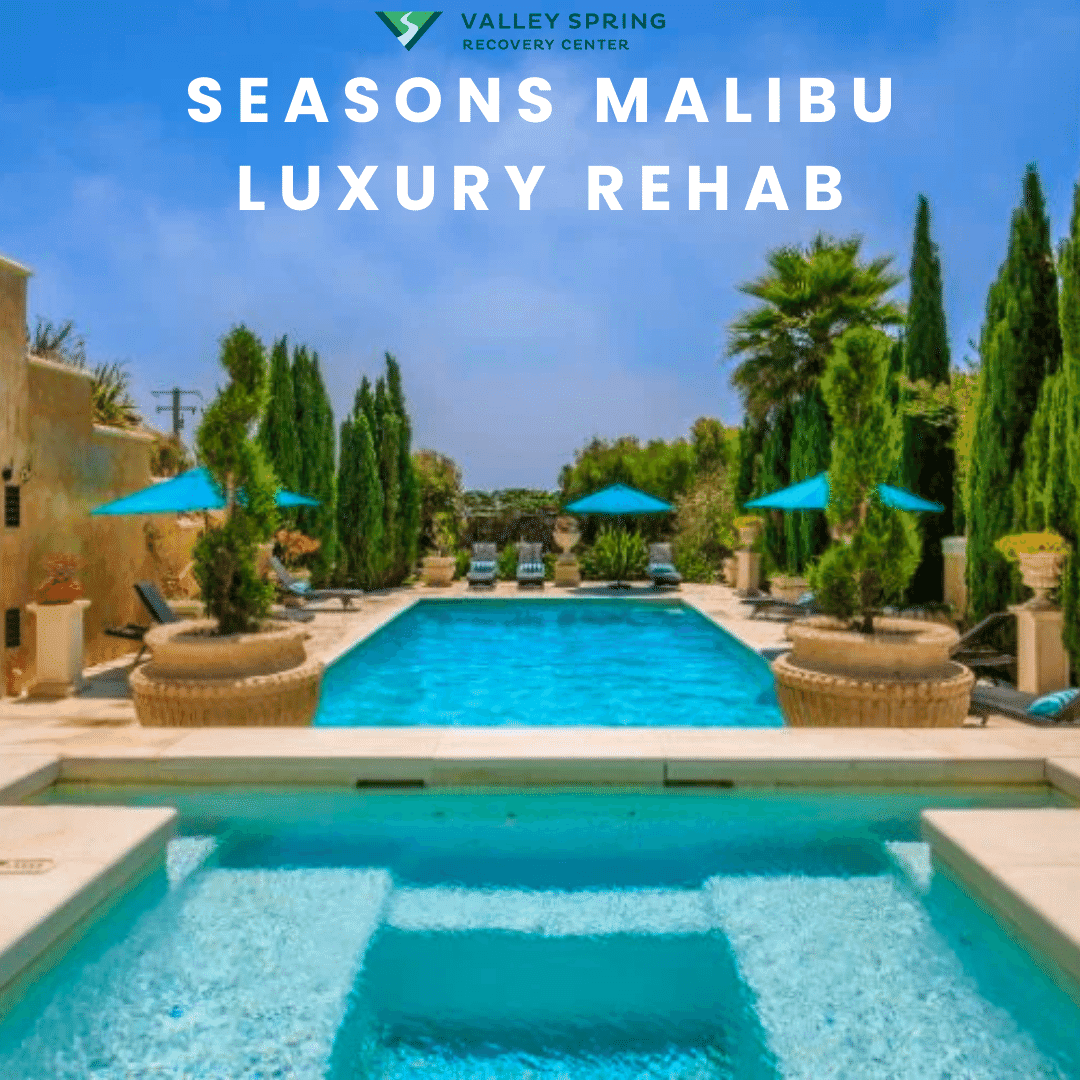 Price starts at $50,000 per month. Seasons Malibu is licensed to treat both addiction & mental health and has been in business for 15 years. They also have a CARF accreditation.
16. The Ridge Ohio
The Ridge Ohio is an addiction treatment center located just outside of Cincinnati that costs $50,000 for 30 days. They frequently treat doctors and lawyers and have a specialty program that works with the Ohio one bite physicians Health Program to provide specialty treatment to professionals that have a license for their work.
17. Caron Pennsylvania
Caron, in Wernersville, Pennsylvania, offers specialized programs for different age groups based on the 12-step model. Prices vary but include physical, emotional, and spiritual wellness activities. $32,875 for 28 days, and an 84-day extended care option for $52,560.
18. Cirque Lodge:
For $30,000, find solace in Utah's beauty at Cirque Lodge. Experience horseback riding, skiing, and stunning mountain views just minutes from the Sundance Film Festival.
19. All Points North
All Points North is a luxury rehab center located in Vale Colorado that offers specialty treatments like brain mapping and nutrition counseling. All Points North can cost upwards of $70,000 per month depending on the different amenities and room you select.
20. The Grove Estate
The Grove Estate is a facility in Peru Indiana located on a walnut grove with 21 acres of land. They boast a historic estate land that also has exercise and integration therapy involved in its curriculum. The Grove Estate is $40,000 per month.
What are the Factors that Make Luxury Drug Rehabs Expensive?
You might be wondering why luxury drug rehabs come with a hefty price tag. There are several factors that contribute to their expense:
High-Quality Amenities: Luxury rehabs often provide top-notch amenities like gourmet meals, luxurious accommodations, and spa services. These extras are designed to make your stay as comfortable and pleasant as possible.
Privacy and Exclusivity: These facilities prioritize your privacy and limit the number of clients they admit. This exclusivity means you get more one-on-one attention and a quieter, more private environment.
Skilled Staff: Luxury rehabs employ experienced and highly trained staff, including therapists, doctors, and support personnel. Their expertise can be more costly but ensures you receive top-level care.
Holistic Therapies: Many luxury rehabs offer holistic therapies like yoga, meditation, and massage. These additional services contribute to the overall cost but can enhance your treatment experience.
Location: The setting of luxury rehabs, often in beautiful and serene locations, adds to the expense. Beachfront or mountain retreats provide a peaceful backdrop for recovery but come at a premium.
Low Client-to-Staff Ratio: Luxury rehabs maintain a low client-to-staff ratio, which means more individualized attention. However, this requires a larger staff, increasing the overall cost.
Extended Aftercare: These rehabs typically offer extended aftercare programs to ensure ongoing support post-treatment. This additional service adds to the overall cost.
Exclusivity and Demand: The exclusivity and demand for luxury rehab services also drive up the cost. Limited availability and high demand contribute to the higher prices.
While luxury drug rehabs offer numerous advantages, it's essential to consider whether these factors align with your needs and budget. Balancing the benefits against the cost is a crucial aspect of choosing the right rehab for your recovery journey.
What are the Benefits of Expensive Luxury Drug Rehabs?
While these facilities come with a higher price tag, they also offer a unique set of amenities and services designed to make your path to sobriety as comfortable and effective as possible. Understanding these benefits can help you determine whether a luxury drug rehab aligns with your goals and preferences for treatment, ensuring that you receive the level of care and support that suits your needs.
Personalized Care: In these facilities, your treatment plan is tailored specifically to you. They understand that everyone's journey to recovery is unique, and they'll craft a plan that addresses your individual needs.
Comfort and Privacy: Luxury rehabs offer a high level of comfort and privacy. You'll have a serene and peaceful environment to focus solely on your recovery without distractions.
World-Class Amenities: These rehabs often provide amenities like gourmet meals, luxurious accommodations, and spa-like services. This can help you feel more relaxed and motivated during your stay.
Holistic Approaches: Many luxury rehabs emphasize holistic approaches to healing. You might have access to therapies like yoga, meditation, and massage, which can complement your treatment and promote overall well-being.
Experienced Staff: Expect highly trained and experienced staff who are experts in addiction treatment. They'll guide you through the process with care and expertise.
Low Client-to-Staff Ratio: Luxury rehabs often maintain a low client-to-staff ratio, ensuring you receive more personalized attention and support.
Stunning Locations: Some luxury rehabs are situated in breathtaking locations, such as beachfront or mountain retreats, providing you with a serene and inspiring backdrop for your recovery journey.
Extended Aftercare: Many luxury rehabs offer extended aftercare programs, ensuring you have ongoing support even after leaving the facility.
These benefits can create an environment where you feel valued, comfortable, and motivated to overcome addiction. However, it's important to weigh these advantages against the cost and consider what aligns best with your unique needs and circumstances.
We're Here To Help
Break Free From Addiction Today
CONTACT US
What Are The Downsides to Luxury Drug Rehab Centers?
It's important to acknowledge that these facilities while offering a unique array of amenities, have not been without their share of critiques and controversies. Exploring these concerns can help you make an informed decision about whether a luxury rehab aligns with your recovery goals. These critiques and controversies surrounding luxury drug rehab centers include:
Accessibility and Affordability: Luxury rehab centers are often criticized for their high costs, making them inaccessible to many individuals who need addiction treatment. This exclusivity can perpetuate health disparities.
Exclusivity and Elitism: These centers are sometimes perceived as catering only to the wealthy elite, creating a sense of elitism in addiction treatment. This can deter people from seeking help or feeling alienated.
Treatment Effectiveness: Critics question whether the luxurious amenities and high costs of luxury rehabs translate into better treatment outcomes compared to more affordable options. Some argue that the focus on comfort might overshadow the core therapeutic aspects of recovery.
Ethical Concerns: There are ethical concerns related to the profit motive in luxury rehab centers. Some argue that the pursuit of profit may compromise the quality of care or lead to unnecessary treatments.
Celebrity Endorsements: The use of celebrity endorsements by luxury rehab centers can create unrealistic expectations about the effectiveness of their programs and reinforce the notion that these are the only effective treatment options.
Focus on Comfort: Critics contend that the emphasis on comfort and lavish amenities may distract from addressing the underlying issues of addiction. They argue that these centers may not provide the same level of therapeutic interventions as more traditional rehab facilities.
Transparency: Some luxury rehab centers have faced criticism for a lack of transparency in their pricing structures and treatment methodologies. Critics argue that prospective clients should have clear information about what they are paying for and the expected outcomes.
Stigma Reinforcement: By promoting a lifestyle of luxury and exclusivity, these rehab centers may inadvertently reinforce the stigma associated with addiction, suggesting that only those with financial means can recover successfully.
Profit-Driven Care: Concerns exist that luxury rehab centers may prioritize profit over patients' best interests, potentially recommending unnecessary treatments or extended stays to increase revenue.
Treatment Tailoring: There is debate over whether luxury rehab centers truly tailor treatment plans to individual needs or if they offer a one-size-fits-all approach, with luxury amenities serving as the primary differentiator.
It's important to note that not all luxury rehab centers face these criticisms equally, and many are actively addressing these concerns by offering scholarships, sliding scale fees, and alternative payment options to make treatment more accessible. However, these critiques highlight ongoing discussions within the addiction treatment industry about the role and impact of luxury rehab centers.
What are the Available Alternatives for Those Seeking Affordable Addiction Treatment?
Addiction treatment comes in a wide variety of accessible options that can provide you with the support and care you need to overcome addiction without straining your finances. By considering these alternatives, you can make an informed decision that aligns with your budget and recovery goals. Let's dive into these options and discover the path that's right for you on your journey to sobriety. Here are some alternatives you can explore:
Government-Funded Programs: These programs are a good place to start. They offer addiction treatment that's either free or low-cost. They can provide various levels of care, from detoxification to outpatient counseling.
Nonprofit Organizations: Many nonprofits run addiction treatment centers or can help you financially. Organizations like The Salvation Army or Catholic Charities might be able to assist you.
Insurance Coverage: Check your health insurance policy. The Affordable Care Act (ACA) requires insurance plans from the Health Insurance Marketplace to cover substance abuse treatment. It could help reduce your costs.
Sliding Scale Payment Plans: Some rehab facilities offer payment plans based on your income. This means you pay what you can afford, which can make treatment much more accessible.
Local Support Groups: You might find comfort and support in local support groups like Alcoholics Anonymous (AA) or Narcotics Anonymous (NA). They're usually free and can provide valuable peer support.
Community Health Clinics: These clinics often provide mental health and addiction services at reduced rates. They may offer counseling and medication-assisted treatment.
Online Counseling Services: Virtual therapy platforms and apps can be a cost-effective way to start therapy. They might not be suitable for severe addiction cases, but they can be a good starting point.
Employee Assistance Programs (EAPs): If you're employed, check if your workplace has an EAP. They can offer assessments, counseling, and referrals for addiction treatment, and these services are often free for employees.
Community Outreach Programs: Local churches, community centers, or nonprofit organizations may organize addiction support groups or workshops at low or no cost.
Educational Institutions: If you're a student, some universities and colleges offer counseling and addiction support services at reduced rates.
Telehealth Services: Many therapists now offer telehealth services, which can be more affordable than in-person sessions.
State and Local Resources: Your state's substance abuse agency or local health department can provide lists of low-cost or free addiction treatment resources.
Online Resources: There are online directories and helplines that can connect you with affordable treatment options and financial assistance programs.
Some of these options might come as inpatient or outpatient drug rehabilitation. You must learn about the cost of drug rehab and the difference between inpatient and outpatient drug rehabs to determine which one works best for your addiction and your finances. Remember, you're not alone in this journey. These resources are here to support you as you work towards your recovery. Don't hesitate to reach out and explore these options to find the help you need.
Share This Post